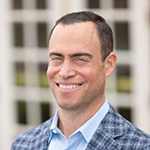 Josh Amoroso
EXECUTIVE VICE PRESIDENT/ PARTNER
(650) 548-2686
[email protected]
Download vCard
Broker Properties
Josh is the co-founder of LRG Investors, LLC, and Senior Partner at Lockehouse. Josh has over 25 years of commercial real estate investment, development, and asset management experience. At the helm of LRG Investors, Josh has helped to shape the strategy and thesis for over sixty projects to date. His focus on value-add investments and ground-up development spans a wide range of asset types including retail, office, industrial, multifamily, and storage.
Throughout his career, Josh has built and maintained a reputation of honesty and efficiency. As a senior partner at Lockehouse, Josh has a multitude of resources at his fingertips to help execute his business plan including property, asset, entitlement, and construction management services and superior tenant relationships that enable his projects to proceed with pinpoint accuracy.
Josh is a graduate of the University of Oregon and a proud Duck. He currently sits on the board of Hip Housing – a nonprofit organization providing creative affordable housing solutions for people in San Mateo County, and actively involved with the Okizu Foundation – an organization dedicated to supporting all members of families affected by childhood cancer through recreational programs. Josh's passion for life extends from his business and charitable relationships to his devotion to family and sports. He coaches a variety of Bay Area youth teams and is an avid mountain biker, skier, and runner, previously qualifying for Boston.
Listings by Josh Amoroso