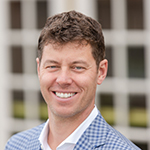 Kirk DeClark
VICE PRESIDENT OF INVESTMENT SALES
(650) 548-2664
[email protected]
Download vCard
Broker Properties
Kirk DeClark has over 17 years of experience in real estate finance, investment, acquisitions, asset management, and investor relations.
He joined Lockehouse Investment Sales Team in 2018 as an original member of the new division representing clients in the acquisition and disposition of commercial real estate.
Kirk is also the Director of Acquisitions for LRG Investors, LLC, and affiliate of Lockehouse. Most recently, Kirk worked for the strategic communications firm Joele Frank, Wilkinson, Brimmer, Katcher where he assisted clients across industries and in a wide range of special situations including mergers & acquisitions, shareholder activism and crises, as well as provided ongoing public and investor relations support.
Kirk earned a B.A. in Economics and B.A. in Communication from University of California, Davis and an MBA from Columbia Business School.
Kirk resides in San Mateo, CA with his wife, Kristin, and children, Kolby, Kylie and Kellen.
Listings by Kirk DeClark